January 2016
---
NIA is now accepting applications for positions in Brooklyn, Staten Island, and Queens for this school year. We have a need for Group Leaders and Activity Specialists. Please email a résumé and cover letter to jobs@niabklyn.org and include the position title in the subject line.
---
PS 186/NIA ExpandED's Family Night
The parents, students, and staff of PS 186/NIA ExpandED recently got together to create the sets for their upcoming production of Disney's The Lion King KIDS. Backgrounds, including trees and leaves, as well as masks were created in what was the first of three planned events.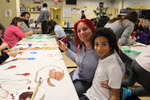 ---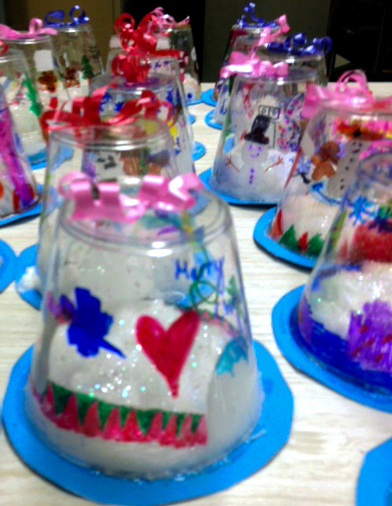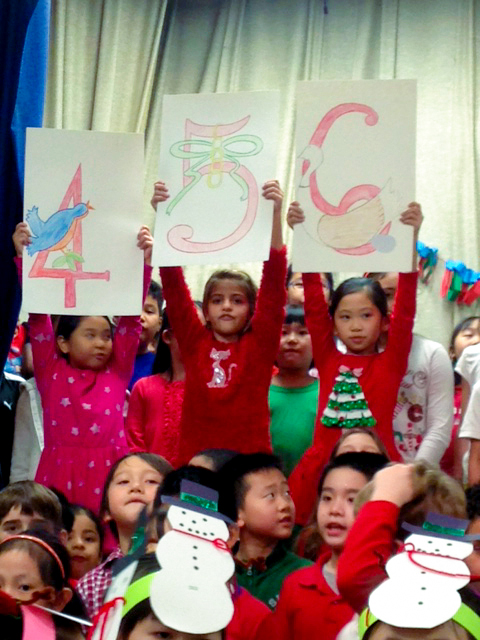 NIA/PS 247 held a holiday celebration to close out 2015
NIA/PS 247 students are weaving in and out of art class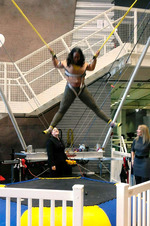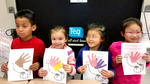 Art students at NIA/PS 229 created doves for MLK, Jr. Day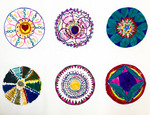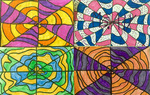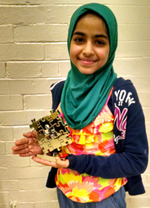 Mentalla Hassan was the last person standing after the entire NIA/IS 104 debate team's competition! The team had debated the effectiveness of school suspensions.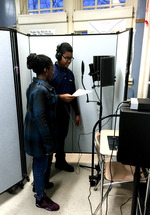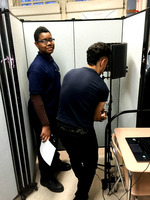 Where are the next great rappers coming from? NIA/Kingsborough, where the Youth Recording Apprentice Program (YRAP) team transforms the classroom into a studio. The youngsters beats and songs are some of the hottest music around!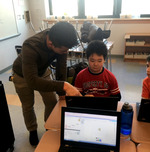 Game Design at NIA/IS 229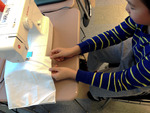 Style is back in style at NIA/IS 229 where Taylor Harlin has begun a fashion design class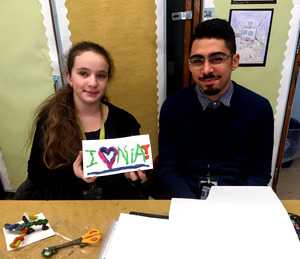 NIA/Bay Academy sixth-grader Gabriela Goryachikovskiy shows off her art work. Her teacher is Marco Dasilva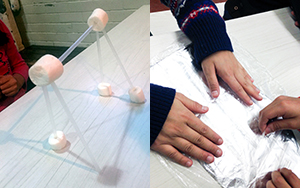 Students at NIA/PS 95 are exploring STEM, using everyday items. Using straws and marshmallows, they created structures, including boats. Pipe cleaners were used as well to create buildings, with an eye towards structure sustainability.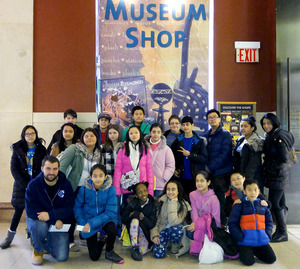 NIA/IS 281 visited the American Museum of Natural History this past Saturday, taking in the Butterfly Conservatory, among other sights

The NIA Domestic Violence Awareness Program, supported by a grant from the NYS Division of Criminal Justice Services, sponsored by State Senator Martin J. Golden, aims to increase the public's awareness of the signs of domestic violence, elderly and relationship abuse, and provide available resources for youth, adults, and seniors in need.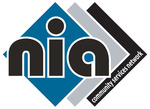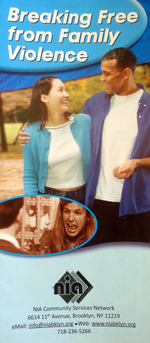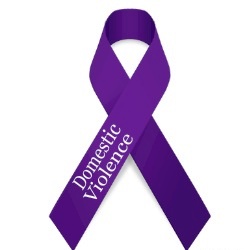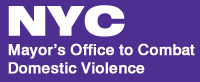 St. Luke's Roosevelt Crime Victims Treatment Center ((212) 523-4728) offers counseling, support groups, and help with claims and referrals regarding stalking, sexual abuse, murder of a family member, robbery, assault, incest, domestic violence, and rape.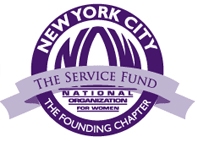 The Domestic Violence Project of the Urban Justice Center provides legal and social services for victims of domestic violence in Brooklyn. They provide representation and legal advocacy, crisis counseling, and empowerment groups. Services are available to survivors of abuse, regardless of income and in multiple languages.

NIA depends on the generosity of public, individual, corporate, and foundation donors, so please consider making a donation now.

Dear Friend,

NIA Rings In the New Year at Its Open House!

NIA Community Services Network opened their doors on January 7 to leaders from our many communities. NIA President Michael A. Bové, CEO Mary Anne Cino, Treasurer Joseph Iervasi, Secretary Deborah Iemma, Board Members Mario Costantino, Ida D'Amelio, and Executive Director Rosa Casella greeted more than 150 people who came by to celebrate the beginning of the New Year.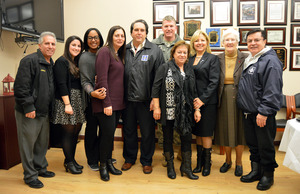 Guests, including local elected officials and their representatives, education, community, and business leaders, friends, and NIA staff enjoyed one another's company, good conversation, and good food, as well as the chance to talk about NIA's plans for the year ahead.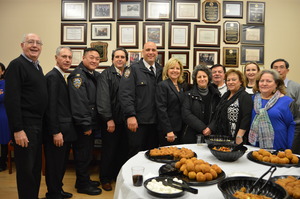 ---
NIA/IS 192 Students Become NYC Junior Ambassadors
On January 29, the United Nations played host to officially welcome the inaugural cohort of the NYC Jr. Ambassadors, a diverse group of seventh graders representing all five boroughs. The kickoff meeting brought together educators from the 11 selected schools. The NIA program at IS 192 is one of only two afterschool programs chosen to participate. NIA/IS 192 Program Director Monique Wynn, accompanied by NIA Educational Advisor Lisa Korchma and Activity Specialist Juwairia Abbas were introduced to several members of the Mayor's Office for International Affairs. While there, they received a plethora of resource materials and met with key contacts who will lend their support as they begin to implement this innovative program on site. Students at NIA/IS 192 will participate in what we believe will be a transformative experience as they learn about the crucial mission and significant work of the UN. Chosen by a selection committee comprised of NYC-based local and global leaders, seventh graders at NIA/IS 192 will gain the knowledge and learn the skills critical to bringing about social change. Students will participate in activities throughout the year as part of the Mayor's initiative to engage and strengthen the connection between New Yorkers and the UN. Additionally, NIA/IS 192 participants will have the unique opportunity to tour the UN and one of its diplomatic missions, as well as host a UN ambassador to engage in a discussion about their chosen research topic.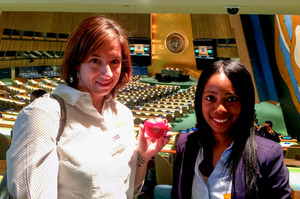 NIA's Lisa Korchma and Monique Wynn pictured at the kickoff event in the UN General Assembly
---
NIA's Storming Steppers Interview NBC News' Ida Siegal
The Storming Steppers of nbsp;NIA/New Voices recently conducted a remote interview with NBC News Correspondent and children's book author Ida Siegal. NIA Program Director Meredith Burns, herself a star of stage and screen, filmed and edited a video of the session. The Steppers are part of the Step It Up NYC program. The team's social cause is female empowerment. Watch it here!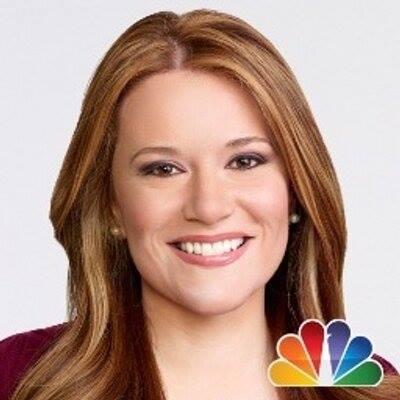 UPDATE: The Steppers delivered what one pundit called "an awesome performance and message" at the Step It Up Semi-Finals, providing "one of the highlights of the afternoon... Their cheering section afterwards also stole the show!"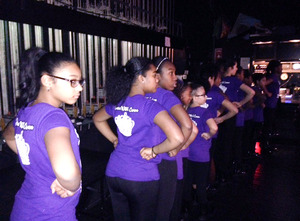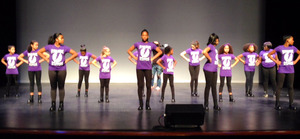 See for yourself!
---
NIA/Citizens of the World Charter School, Crown Heights created a video presentation about some of the different holidays celebrated in the United States in December. Drama Activity Specialist Ashley Benoit directed the cast and crew. See it here!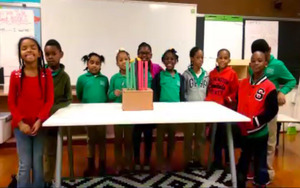 ---
NIA/UASCJ Holiday Arts & Crafts
On December 19, NIA and Urban Assembly School for Criminal Justice hosted a family holiday arts-and-crafts event for students and their families. They enjoyed a morning of togetherness, creating holiday jewelry, building ginger bread houses, and decorating cookies and wreaths.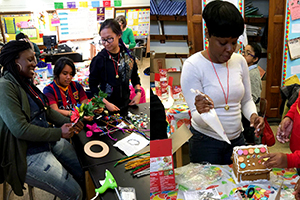 Alicia Lewis and LaToya Ifill, decking the halls
---
NIA/CWC's Sax Solo
NIA first- and third-graders at Citizens of the World, Crown Heights were treated to a visit from alto saxophonist Arna Dubose, Jr. on January 20. The rhapsodic reed man played a few jazz and pop selections, including requests, and talked about both the saxophone and how it relates to other instruments they have learned about. Arna performs regularly around New York City in addition to his performances in England, France, Japan, and Mexico.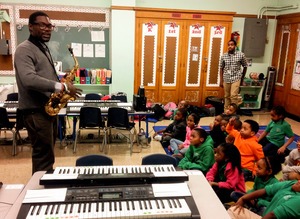 ---
NIA's Green Team Is On the Scene at New Voices
NIA's Green Team at New Voices has a busy winter and spring lined up. On February 25, the beautifying bunch will present a school-wide assembly to introduce a new lunchtime recycling and composting program to the entire New Voices school. The program will begin that same day, during both lunch periods. By reducing, reusing, and recycling, the Green Team hopes to make a difference!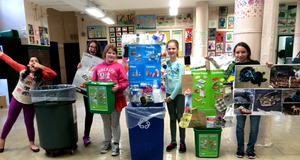 The emerald environmentalists are also signed up for the Carton 2 Garden Contest, sponsored by Kids Gardening. They'll be thinking "out of the carton" to create a recycled garden and art project using repurposed milk and juice cartons from the lunchroom.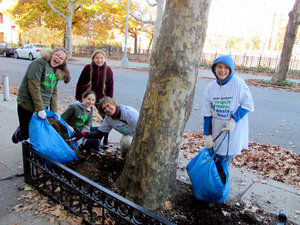 And once spring has sprung, the Green Team will host another day of greening to plant new gardens and beautify their entire block!
---
Oh, Snap! NIA/IS 104 Has a Photography Class!



The members of NIA's photography class at IS 104 has been busy documenting the many activities in the program there. Jessica Abramov leads the group.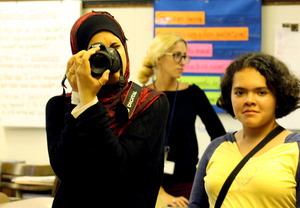 ---
February Madness as NIA's Intramural Basketball League Gets Set for Tip Off!
NIA's Intramural Basketball League is blowing up! The league has now expanded to include two divisions — nine boys and girls teams and four girls-only teams! The boys and girls teams will play one another during the regular season and than face a single-game elimination in the playoffs. The girls teams will play each other three times before moving on to the post-season. Two separate all-star games are also planned for June. With everyone currently tied for first place, happy hoopsters and cagey cagers alike are lacing up their sneakers and competing in pre-season scrimmages! Tony "The Tiger" Tartaglia is the league commissioner.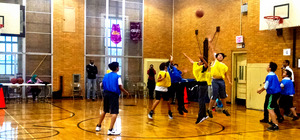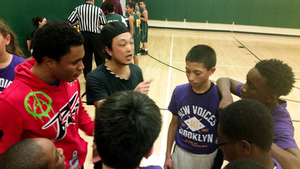 ---
NIA/IS 281 Discovers the Truth About Drugs

Students and staff at NIA/IS 281 recently took part in the Truth About Drugs free event, which was led by the Foundation for a Drug-Free World, New York Chapter and the office of Dr. Bernard Fialkoff. Miss New York, Jamie Lynn Macchia, was the guest speaker!

---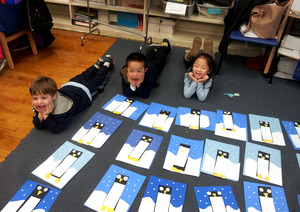 NIA/PS 247 kindergarteners, very pleased with their art work.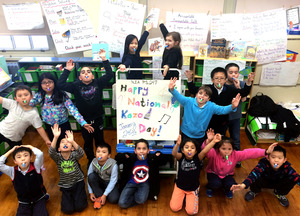 January 28 was National Kazoo Day, a fact not lost on the rootin' tootin' tooters at NIA/PS 247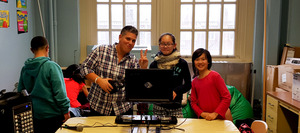 NIA/IS 227 Students are in the mix in Alyson Silver's DJ Mixmaster class!