February 2016
---
NIA is now accepting applications for positions in Brooklyn, Staten Island, and Queens for this school year. We have a need for Group Leaders and Activity Specialists. Please email a résumé and cover letter to jobs@niabklyn.org and include the position title in the subject line.
---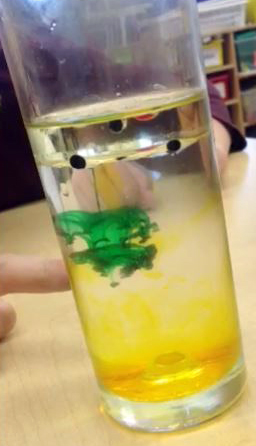 Do oil and water mix? Click on the picture above to watch some lovely footage from NIA/PS 247's STEM classes!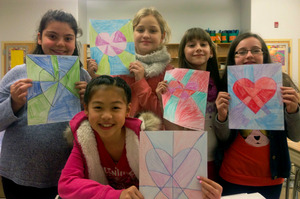 NIA/PS 229 fourth-graders share the love with hearts created in the style of Jim Dine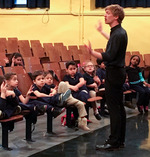 Kindergarten and first-grade students at NIA/PS 52 have been working with teaching artist Nich Mueller from the New York Pops. Here they're working on "A Spoonful of Sugar" in preparation for their upcoming Broadway musical revue!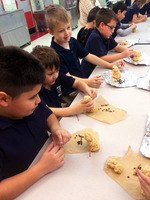 Cooking is a real treat at PS 52, especially when Lisa Juarez's students make Rice Krispie treats shaped like snowmen! Measuring skills and creativity get exercised in this tasty activity!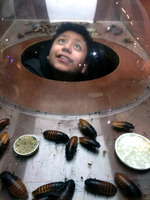 NIA/IS 192 was glowing at Dave & Buster's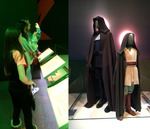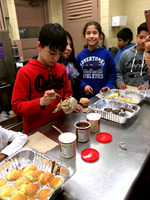 Valentine's Day cupcake making at NIA/IS 192


NIA/PS 330 put on a dance show!
---
NIA's Pen Pal Project
NIA Program Directors Shanelle D. Jenkins (PS 95) and Jibrail Nor (Citizens of the World Charter School, Crown Heights) began a pen pal project last year in an effort to connect NIA students across the borough of Brooklyn. Learning about new neighborhoods and cultures is an adventure in itself and these inter-student connections are definitely happening thanks to the addition of NIA/New Bridges Elementary! For the past several weeks, students from each program have been writing feverishly to their new friends, including sending pictures via postcards. With NIA Program Director Yemisi Nassirou's enthusiasm and imagination added to the mix, this year's PPP is sure to be exciting. All of the participants are improving their writing skills, week by week. The PPP will culminate with an activity-filled trip to CWC, Crown Heights in the spring, where the correspondents will meet one another for the first time!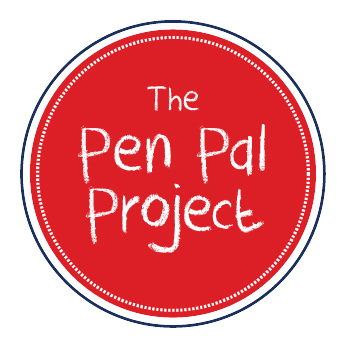 ---

The NIA Domestic Violence Awareness Program, supported by a grant from the NYS Division of Criminal Justice Services, sponsored by State Senator Martin J. Golden, aims to increase the public's awareness of the signs of domestic violence, elderly and relationship abuse, and provide available resources for youth, adults, and seniors in need.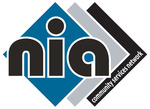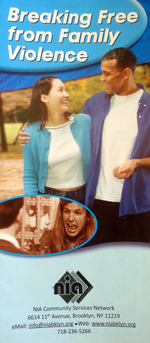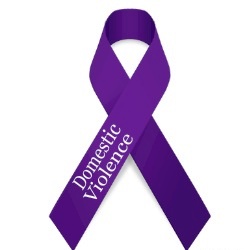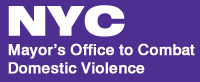 St. Luke's Roosevelt Crime Victims Treatment Center ((212) 523-4728) offers counseling, support groups, and help with claims and referrals regarding stalking, sexual abuse, murder of a family member, robbery, assault, incest, domestic violence, and rape.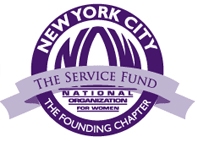 The Domestic Violence Project of the Urban Justice Center provides legal and social services for victims of domestic violence in Brooklyn. They provide representation and legal advocacy, crisis counseling, and empowerment groups. Services are available to survivors of abuse, regardless of income and in multiple languages.

NIA depends on the generosity of public, individual, corporate, and foundation donors, so please consider making a donation now.

Dear Friend,

NIA/New Voices' Storming Steppers Step Up to the Finals as NIA/KECSS Zooms Ahead!!

The Storming Steppers of NIA/New Voices have advanced to the finals of the Department of Youth and Community Development's Step-It-Up Competition! Program Director Meredith Burns described everyone at the program as "excited and thrilled. The judges were incredibly impressed by the passion and precision of our team." The finals will take place at the legendary Apollo Theater in June!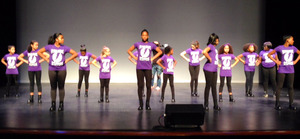 Not to be outdone, NIA/Kingsborough Early College Secondary School has been chosen to participate in the DYCD/Nike Zoom Basketball League! The girls team, formed to promote #Fun, #GirlPower, and #TeamWork, will be coached by Tiffany Bruce and Ricardo Castellanos. Ms. Bruce, who is the program director, noted that "we strive not only to win, but for greatness on and off the basketball court." The launch event will feature a "surprise guest" and plenty of giveaways from the iconic shoe manufacturer!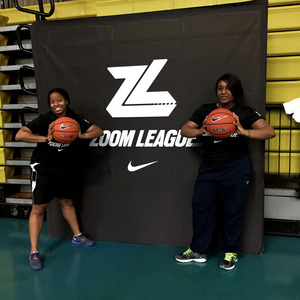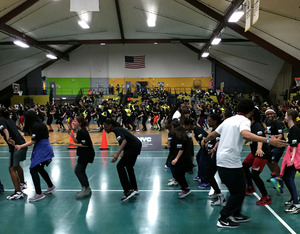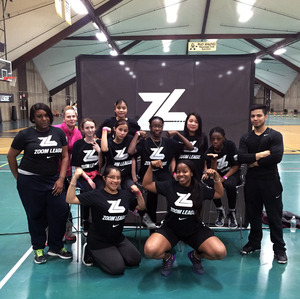 ---
NIA Offers Adult Literacy Classes and More!

Thanks to a grant to NIA sponsored by the NYC Council's Brooklyn Delegation and Councilman Vincent J. Gentile, through the Department of Youth and Community Development (DYCD), NIA is now offering classes for adults!

At PS/IS 30, English as a New Language, Literacy, and Computer classes are all available during Saturday mornings. What to do with the kids? If they're in grades K – 8, they can enjoy basketball and art classes at the same time, thanks to the same people mentioned above and to funding provided by SONYC (School's Out New York City)! To register for these offerings, contact Parent Coordinator Donna Moscatello at (718) 491-8440, ext. 1032.
At PS 186, adult English language classes are available as well! All parents who have a child in NIA's Super Saturday program there are encouraged to attend. The class teaches basic skills through listening and speaking the English language.

At IS 281, the school's Tuesday and Thursday offerings have been enhanced through Adult Literacy classes and Digital Literacy for the youngsters.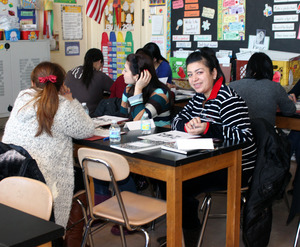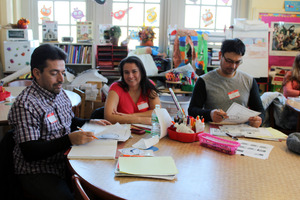 ---
NIA/PS 186 ExpandED recently celebrated College Awareness Day. Four volunteers came by, thanks to the Kohl's Cares program. They helped make college banners and posters, which were then hung around the school.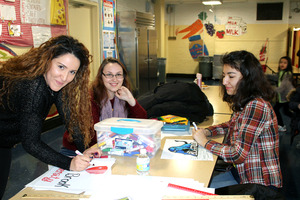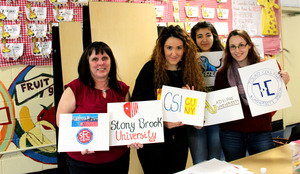 ---
NIA's Basketball League Takes the Court!
NIA's Basketball League has tipped off on its 2016 season. All-girls teams from IS 104, IS 121, IS 227, and UASCJ, as well as coed teams from IS 30, IS 98, IS 104, IS 121, IS 192, IS 227, IS 229, IS 303, and New Voices will compete against one another in a total of 54 games from now until May 24. Single elimination playoff rounds and an all-star game are planned as well. Tony "Triple Double" Tartaglia is the NIA league commissioner.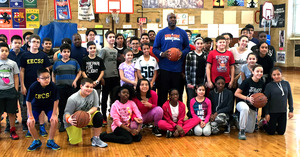 At a February 17 basketball clinic during the mid-winter break, the teams met Cliff Morgan (pictured above), who played professionally for 18 countries in 15 years, won four championships as a head coach in Mexico, and was an assistant coach for the New York Knicks. Mr. Morgan told everyone about his initial reluctance to play basketball, his falling in love with the game once he did, and the lessons it has taught him. He then encouraged the adolescents to follow their dreams and to listen to both their teachers and parents, since they have their best interests in mind. Finally, he urged them to be the best at whatever they want to do.

Teams from KECSS, IS 104, IS 121, and IS 192 attended the event.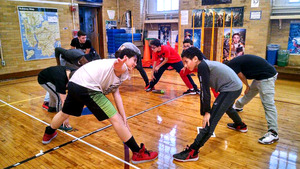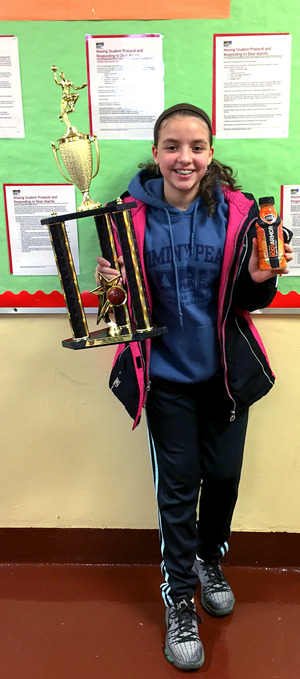 IS 121's Sophia Muñoz was the MVP of NIA's Basketball Clinic
---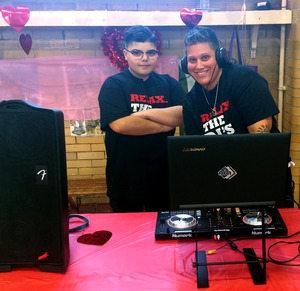 NIA/IS 227 students were spinning the platters that matter at their Valentine's Day dance! Alyson Silver (right) has been working with the knights of the turntable.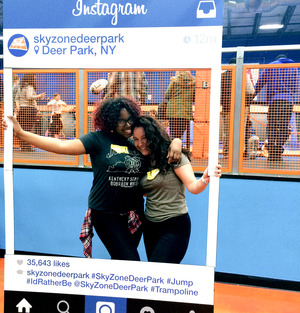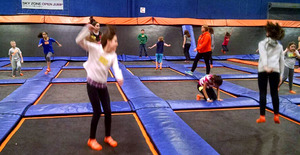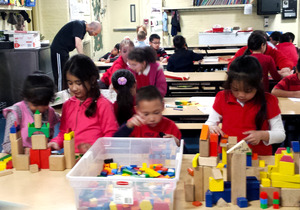 Students at PS 186/NIA ExpandED are exploring engineering concepts, using LEGOs and other manipulatives