May 2016
---
NIA is now accepting applications for positions in Brooklyn, Staten Island, and Queens for this school year. We have a need for a Program Supervisor, a Program Director, Group Leaders and Activity Specialists. Please email a résumé and cover letter to jobs@niabklyn.org and include the position title in the subject line.
---
Program Pictures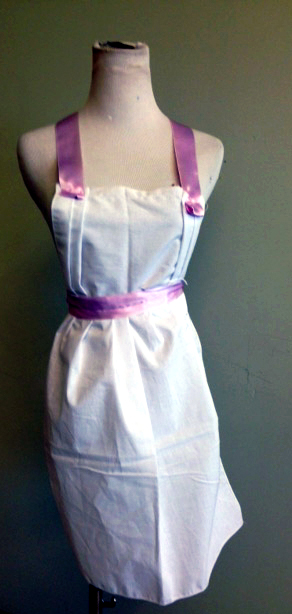 NIA/IS 229's Fashion class is busy creating costumes for "Beauty and the Beast"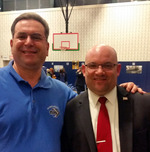 Mayor Bill de Blasio was on Staten Island for a Town Hall meeting on April 20. City Councilmember/Minority Leader Steven Matteo (above, right, with NIA's Sal Turchio) and Borough President James Oddo co-sponsored and moderated the event. SILive offers these highlights of the evening.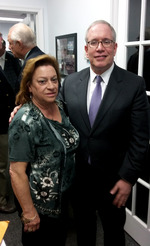 NIA Executive Director Rosa Casella at a recent Meet and Greet with New York City Comptroller Scott Stringer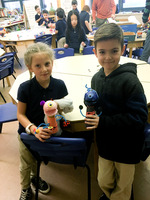 NIA/PS 52 students benefited from a 10-week residency from NIA subcontractor Puppetry in Practice. Funding was provided by a CASA grant designated to NIA by City Council Member Steven Matteo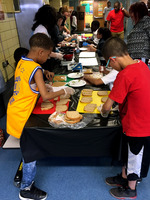 Kattiusca Montalvo's cooking students made French toast for their parents at NIA/IS 303 as part of their culminating activity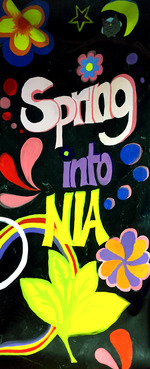 Artwork from NIA/IS
303's culminating activtiy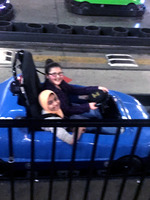 NIA/IS 104 and 192 roared into iPlay America!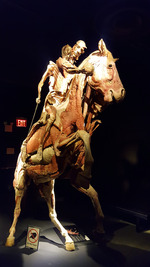 NIA/IS 227 visited the Body Worlds Exhibition in Times Square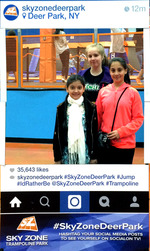 NIA/IS 192's students were jumping for joy at Sky Zone Trampoline Park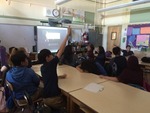 NIA/IS 192's Junior Ambassadors participated in an online interactive game that requires them to make decisions as they try to flee their country and make their way to the safety of a refugee camp.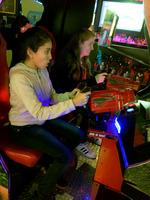 NIA/IS 192 rolled into Bowlmor Lanes over spring break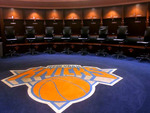 NIA/IS 227 and 192 took an all-access tour of Madison Square Garden, including the Knicks' and Rangers' locker rooms!
---
The Mystery Guest Signs In at NIA/PS 95
Native New Yorker, author, and poet Michael Dixon visited NIA's program at PS 95 as part of Gabriella Foster's Mystery Guest class. Mr. Dixon described the process he went through to get his book of poetry, A Dark Cloud Over a Lonely Child, published. He also read aloud his new children's book, The Angry Alligator. Students also participated in writing and acting activities to literally and figuratively make a story come to life. Excited for the opportunity to have someone new and eager to meet their next Mystery Guest, the youngsters are learning that everyday people can grow up to do extraordinary things!
---
NIA's Domestic Violence Awareness Program

The NIA Domestic Violence Awareness Program, supported by a grant from the NYS Division of Criminal Justice Services, sponsored by State Senator Martin J. Golden, aims to increase the public's awareness of the signs of domestic violence, elderly and relationship abuse, and provide available resources for youth, adults, and seniors in need.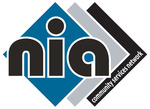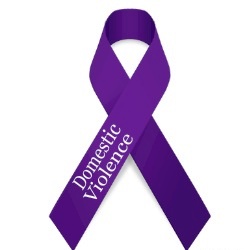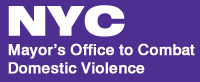 St. Luke's Roosevelt Crime Victims Treatment Center ((212) 523-4728) offers counseling, support groups, and help with claims and referrals regarding stalking, sexual abuse, murder of a family member, robbery, assault, incest, domestic violence, and rape.
---
PS 186 students have designed 500 luminaria bags, which will be part of a June 18 Relay for Life ceremony. The luminarias sell for $5.00 each and can be dedicated to someone who's battling cancer, a survivor, or someone who lost the battle. If you'd like to join the team, or simply donate, you can do so here.
---
Amazon Smile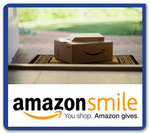 ---
NIA depends on the generosity of public, individual, corporate, and foundation donors, so please consider making a donation now.

Dear Friend,
NIA's Seniors Dance the Night Away!
Golden-agers from nine Brooklyn Senior Centers stormed the Rex Manor dance floor on May 5 and 11. The first two of three scheduled "Senior Proms" were huge successes as the seniors participated in an evening of dancing and dining. NIA middle-school volunteers joined in the celebration, helping to ensure that all of the guests got to strut their stuff and enjoy one another's company!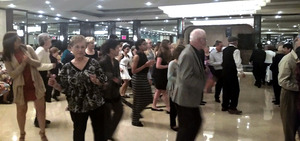 Prom events are supported through grants sponsored by Brooklyn Borough President Eric L. Adams, New York State Assemblyman Peter J. Abbate, Jr., and New York City Council Members Vincent J. Gentile, David G. Greenfield, Mark Treyger, and Carlos Menchaca.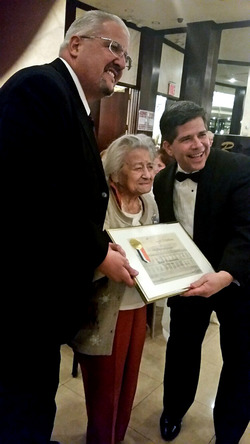 Rose Franzone received a plaque from City Council Member Vincent J. Gentile. This young lady was born in 1910. Don't even think about calling her 106 before her birthday, which is in July! Her secret? "Just believe!"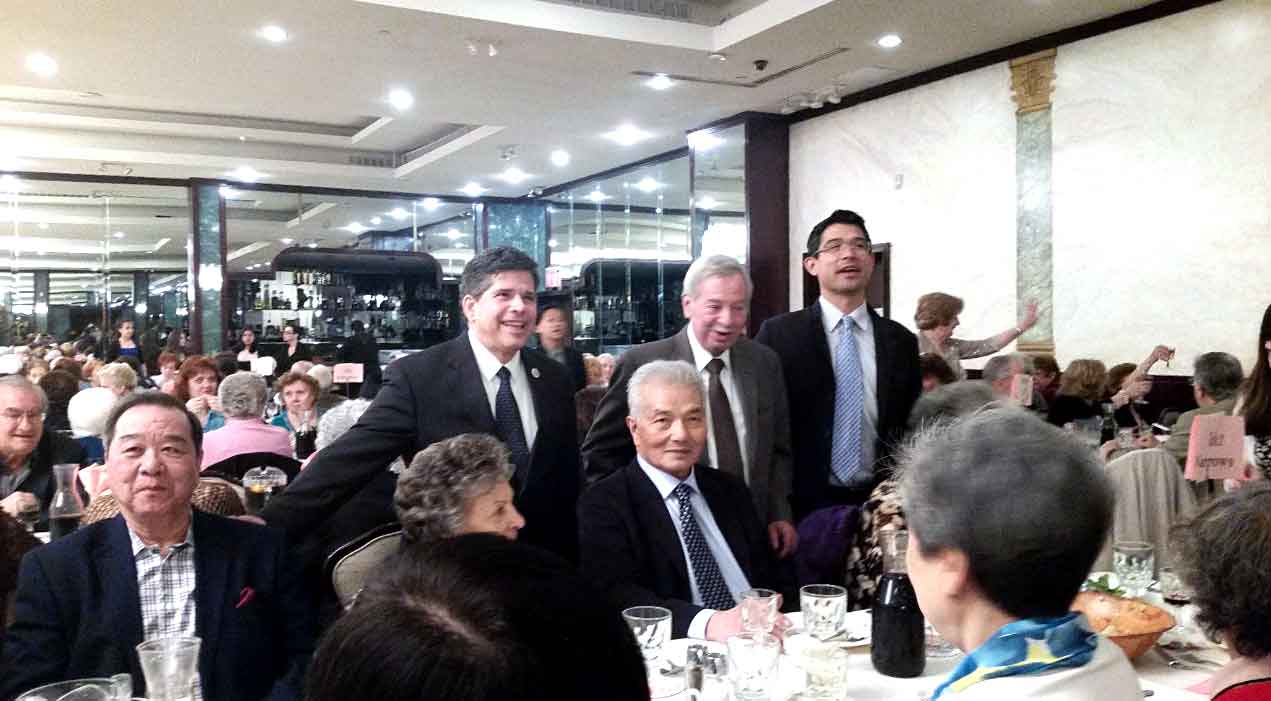 City Council Member Vincent J. Gentile, State Assemblyman Peter J. Abbate, Jr., and City Council Member Carlos Menchaca joined the revelers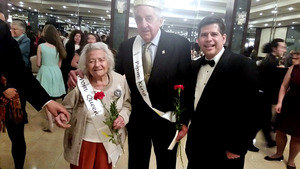 The regal Rose (from St. Ephrem's in Dyker Heights) was also crowned Prom Queen! (It's my night!") Jerry DiMonda (from AARP Ovington Chapter #5055) reigned as King.
May is Older Americans Month.
---
NIA/IS 192's Junior Ambassadors on Climate Change
NYC's Junior Ambassadors Program empowers students to become actively engaged with the United Nations and its mission of addressing some of the most pressing challenges in the world! The Junior Ambassadors from NIA/IS 192 were asked to talk about what climate change means to them. Watch the discussion here.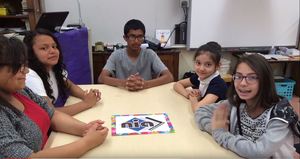 ---
NIA/CWC, NIA/PS 121, and NIA/New Bridges Catch Capoeira Fever!
NIA's students at Citizens of the World, Crown Heights, PS 121, and New Bridges Elementary are learning about Capoeira from a trio of instructors, courtesy of NIA subcontractor Global Arts to Go. The Brazilian martial art combines elements of dance, acrobatics, and music!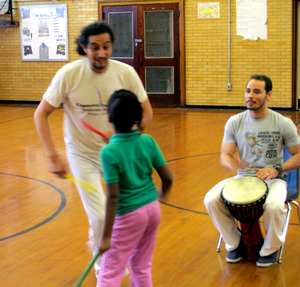 Capoeiristas Gabriel Concha and Piao Silveira
The three capoeiristas taught the youngsters an Afro-Brazilian dance, accompanied by drums and sticks, called the maculelê. Funding to host these programs is provided by grant money from the Department of Cultural Arts. You can watch some short fun videos right here!
---
NIA/New Voices Takes the Ride!
Over spring break, NIA/New Voices students boarded an interactive bus tour of mid-town Manhattan known as The Ride. The hosts were hilarious, the performances stunning, and the kids had a blast learning some NYC history! Parents joined staff members Reshida Carter, Cheeba Cruz, Todd Heckert, and Program Director Meredith Burns on the excursion.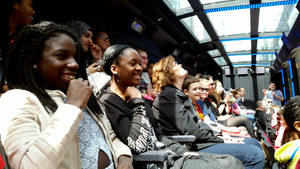 ---
NIA's Card-Carrying Cousins
NIA's students at PS 95 enjoyed a visit from their middle-school counterparts at IS 281 on April 15. 10 sixth through eighth graders, led by Vinny Randazzo, taught the rules and strategies of the Yu-Gi-Oh! card game. Mr. Randazzo helped the students use different communication techniques in order to see how they could apply Yu-Gi-Oh! and Pokémon principles to problems that affect their everyday lives, as well as how the card games could be used to combat bullying and encourage sharing and collaboration. The PS 95ers even received Yu-Gi-Oh! starter kits and rule books, thanks to NIA/IS 281's partnership with Yu-Gi-Oh!'s manufacturer Konami and Kaleidoscope Youth, Family, Millenials!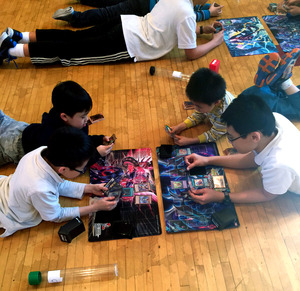 ---
NIA/IS 192 Has a Banner Day

With the third-graders of PS 192 feeling the pressure of upcoming, high-stakes testing, the students of NIA/IS 192 created a banner that was a part of the school's Anti-Anxiety Test Prep Rally. The banner (below) hung in the school auditorium for the duration of the testing period.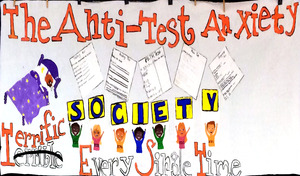 ---
Program Pictures, part II
NIA/IS 229 students creating the sets for "Beauty and the Beast"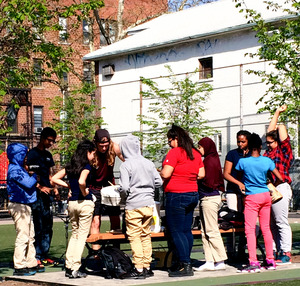 NIA/IS 192 students rehearsing for their May 16 culminating performance. Thanks to NIA subcontractor Midori & Friends, they will perform with members of the Nation Beat ensemble. Pat Noonan is the instructor.

NIA's combined kickball teams from IS 192 ana 121. Their hotly-contested match is still under review at the Commissioner's Office!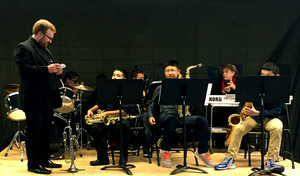 NY Pops Teaching Artist Benje Daneman leads the NIA/IS 303 Jazz Band. That's IS 303 Music Teacher Fay Glass on keyboards!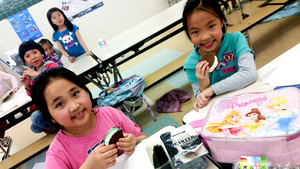 NIA/PS 229 students enjoy a sweet treat from Carvel! Former NIA Site Coordinator Perry Boon now manages the outlet.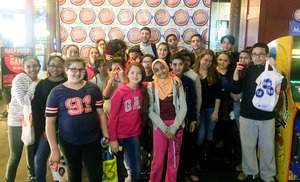 NIA/IS 104 busted loose at Dave & Buster's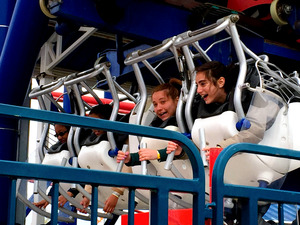 Houston, there's no problem as NIA/IS 104, captained by Bianca Naco, blasts off at Luna Park!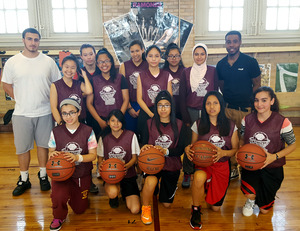 Congratulations are in order for NIA/IS 227's Girls' Basketball Team. The squad finished the regular season undefeated! Next stop: The playoffs! Mahdy Monsour and Shakir Saul coach the team.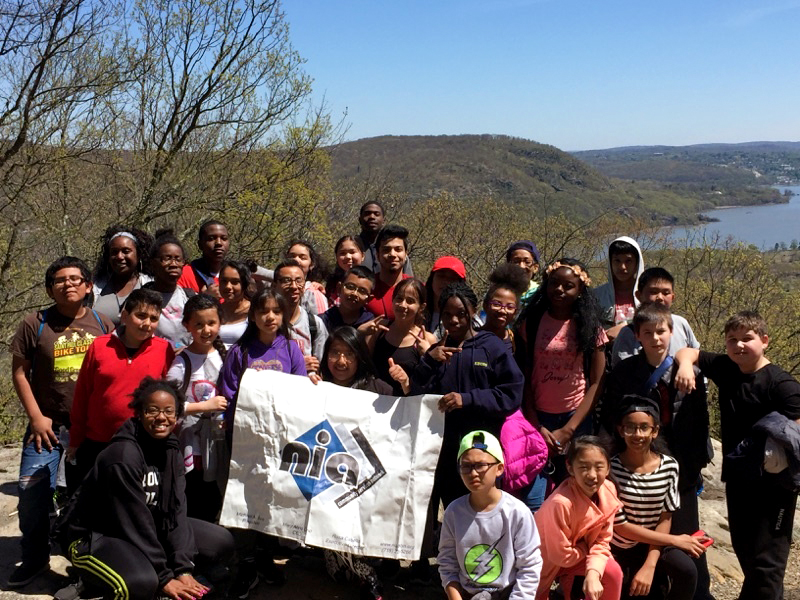 NIA/KECSS hiked up Bear Mountain to partake in the views and enjoy the panoramic scenery of the park! Tiffany "The Pathfinder" Bruce led the expedition.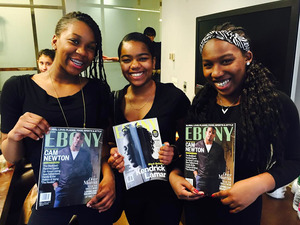 The Storming Steppers of NIA/New Voices paid a visit to the offices of Ebony Magazine during the break!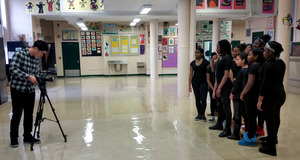 Documentarians Brit Liggett and Hiroshi Hara recently filmed the opening scene of a short doc that will be shown at The Apollo Theatre when The Storming Steppers compete in the finals there, later this spring!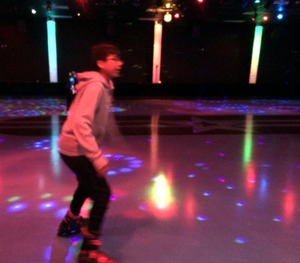 NIA/IS 192 was rocking at RollerJam USA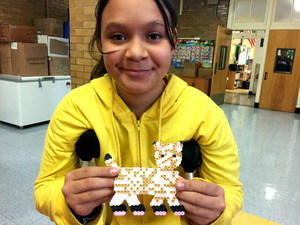 Fuse Beads are the cat's meow at NIA/IS 121!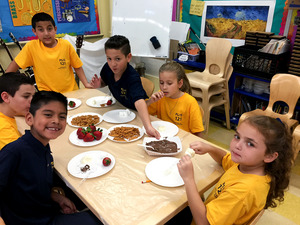 NIA/PS 121 students are investigating the effect chocolate has on strawberries, pretzels, and marshmallows! STEM can be delicious!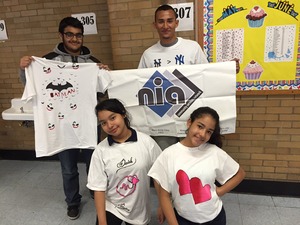 NIA/IS 121 youngsters modeling their self-designed tee shirts!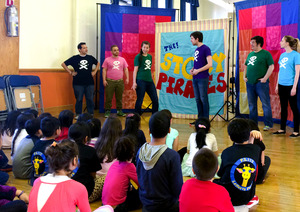 NIA/PS 112 students took part in an eight-week residency with Story Pirates, during which, they created their own unique stories. At their culminating event, some of their stories were performed live by professional artists. Funding for this residency was provided by a CASA grant designated to NIA by Council Member Vincent J. Gentile.