Dear Friend,



Much has happened since you last heard from the NIA and its partners. Here are the highlights:
---
NIA/New Voices Takes the Apollo Theater by Storm!!!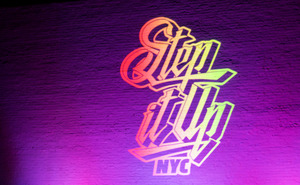 On June 4, the Storming Steppers step team from NIA/IS 443-New Voices took the stage of the legendary Apollo Theater and rocked the house! After a video introduced the packed Harlem house to "the ladies [who] are standing up for female empowerment — taking their message to their community, across the city, and nationwide, speaking to female leaders in media and business, including Ida Siegal of NBC News and Kierna Mayo of Ebony Magazine," the Steppers gave a masterful performance, which propelled them into first place in the Step It Up NYC Final Showcase, Jr. Division!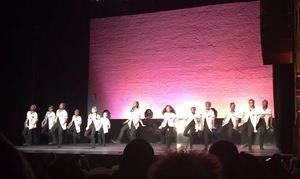 Their amazing work, both on and off the stage, is a tribute to the hard work and dedication of all of the team members, including New Voices School of Academic & Creative Arts Principal Frank Giordano, NIA Program Director Meredith Burns, Assistant Program Director Sari Melendez, and Activity Specialist Lynn Sakyiama.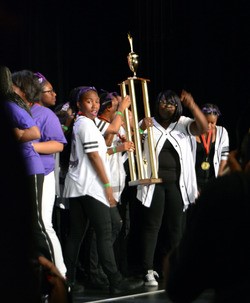 ---
The Year NIA Went Global!
The theme of NIA's auction fundraiser this year was "Travel Around the World" and we could not have chosen a more appropriate one!

NIA's chapter of the NYC Jr. Ambassadors Program at

IS 192

had the incredible opportunity of meeting the United States Ambassador to the United Nations and cabinet member

Samantha Power

, in addition to visiting the UN during the Women's Summit, where they were joined by the UN Department of Public Information's Kathryn Good, DYCD Commissioner Bill Chong, the Mayor's Office for International Affairs Commissioner Penny Abeywardena, and dignitaries from SONYC COMPASS, DYCD, and NYC Global Partners, Inc.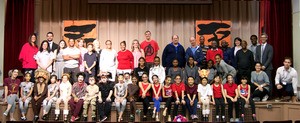 Thanks to the NIA/Global Partners Junior partnership, students in PS 186/NIA ExpandED were visited by Anne Dorte Riggelsen, Consul General of Denmark in New York, and--just this month--by students, teachers, principals, and dignitaries from Johannesburg, South Africa.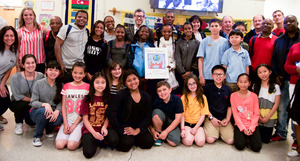 NIA/IS 192's NYC Junior Ambassadors also played host, receiving Switzerland's Ambassador to the UN, Jurg Lauber.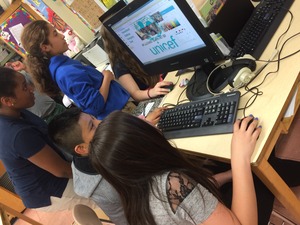 Meanwhile, NIA's students at Citizens of the World, Crown Heights, IS 443-New Voices, PS 134 and

PS 121

, learned the Brazilian martial arts of Capoeira, thanks to NIA subcontractor Global Arts to Go.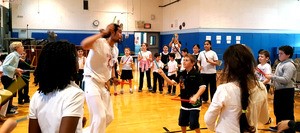 The

NIA/SU-CASA Residency

at the Boro Park Neighborhood Center offered a dual-language cultural arts program that celebrated Chinese culture led by Master Craftsman Xun Ye of Puppetry in Practice.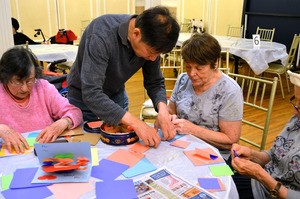 PS 186/NIA ExpandED students transported us to the African savannah with their incredible performances of Disney's The Lion King KIDS ...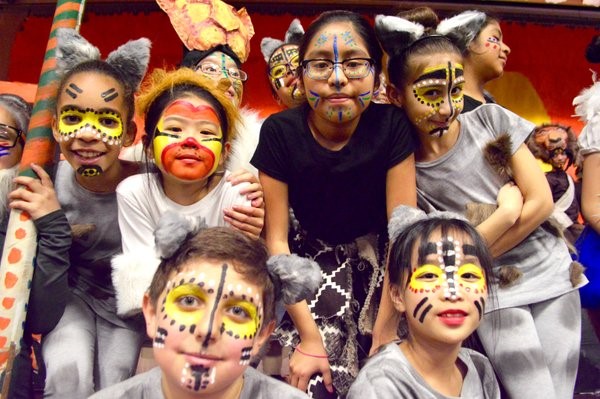 ... while NIA/IS 229 took us to provincial France with their amazing staging of Disney's Beauty and the Beast Jr.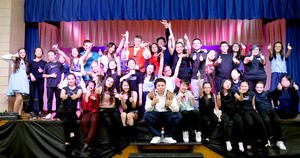 ---
NIA Recognizes Exemplary Students
At the conclusion of each school year, the NIA pays recognition to graduating students in elementary and middle schools with certificates and medals for recipients chosen based on their demonstrated exemplary community service and citizenship.
---
NIA/PS-IS 30's Paper Making/Service Learning Class Holds a Fundraiser
The NIA Service Learning class brought the community together to assist in the school's "beautification" project. Parents and children left their mark in the school as well as in the PS/IS 30 community.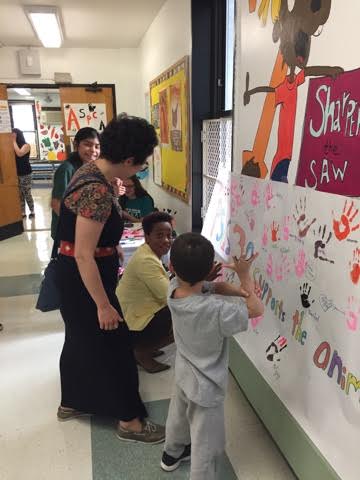 ---
NIA/IS 30 Stages "Seussical the Musical!"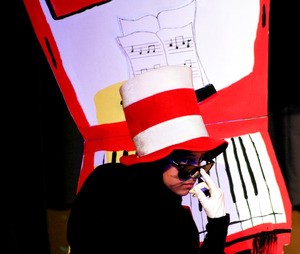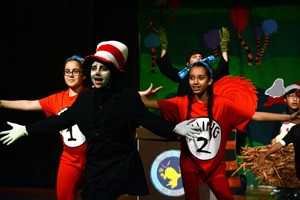 ---
And the "Jolly Rancher" Goes to...

Each year, the Kingsborough Early College Secondary School holds an awards ceremony. This year, NIA Program Director Tiffany Bruce was the recipient of the "Jolly Rancher Award" for always smiling, being happy, doing whatever she's asked even if it's not in her job description, and especially, for being there for all students! Anyone who's ever met Ms. Bruce knows that she is the epitome of this award!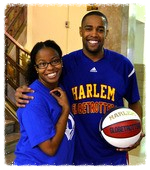 ---
Summer Fun with NIA!
There are a number of events scheduled for summer fun that you should know about:

Family Fun Day/Movie Night

July 16th – Bensonhurst Park (Cropsey Ave & Bay Parkway) Starts at 6:00 PM - Movie/Time: "Inside Out"/8:00 PM

August 20th – McKinley Park (7th Ave & Ft. Hamilton Pkwy.) Starts at 6:00 PM - Movie/Time: "Zootopia"/8:00 PM

September 24th – Owl's Head Park (Colonial Rd & 68th St.) Starts at 6:00 PM - Movie/Time: "The Good Dinosaur"/8:00 PM

October 8th - McKinley Park Pumpkin Festival/Costume Parade Starts at 4 PM - Movie/Time: "Hotel Transylvania"/7:00 PM

These events are supported by a grant to NIA from the NYC Department of Cultural Affairs, sponsored by Council Member Vincent J. Gentile.
Summer Strolls
July 15 & August 5
Bay Ridge Avenue – 80th Street on Third Avenue

July 22 & August 12
80th Street – 90th Street on Third Avenue

All of the Summer Strolls are from 6:00 PM – 10:00 PM
---
NIA's Domestic Violence Awareness Program

The NIA Domestic Violence Awareness Program, supported by a grant from the NYS Division of Criminal Justice Services, sponsored by State Senator Martin J. Golden, aims to increase the public's awareness of the signs of domestic violence, elderly and relationship abuse, and provide available resources for youth, adults, and seniors in need.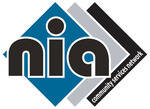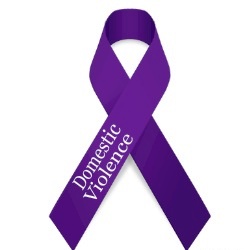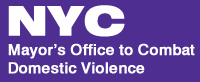 St. Luke's Roosevelt Crime Victims Treatment Center ((212) 523-4728) offers counseling, support groups, and help with claims and referrals regarding stalking, sexual abuse, murder of a family member, robbery, assault, incest, domestic violence, and rape.
---
Join us. We're hiring!
(Click on the link above for all job descriptions.)

Why work for NIA?

The NIA is seeking high-energy, talented individuals with a positive attitude and a strong interest in youth development to join our team. We seek individuals who have a real interest in making a tangible difference in the communities we serve.
Positions Currently Available
Assistant Director
Activity Specialist
Group Leader
How to Apply
Please e-mail a resume and cover letter to:
jobs@niabklyn.org
. Please put the name of the position (e.g., "Group Leader") in the subject line of your e-mail. Applications submitted without a resume will not be considered. Only candidates being considered for the position will be contacted.
No phone calls please.
The NIA complies with all Equal Employment Opportunity laws and regulations and with the provisions of the Americans with Disabilities Act.
---
On behalf of Michael A. Bove, Board President, Mary Anne Cino, CEO, Rosa Casella, Executive Director, the Board of Directors, the Executive Team, and all NIA staff members, thanks are extended to all NIA school and community partners, elected officials, city agencies, ExpandED Schools, Inc., and corporate and foundation sponsors for their invaluable support.
---
The NIA depends on the generosity of public, individual, corporate, and foundation donors, so please consider making a donation now by clicking on the following link:
---
Summer Camp Registration
Still Open!
---
Middle school seats still available -
Sign up now!
---
IS 227 (Bensonhurst/Dyker Heights)
6500 16th AVENUE, BROOKLYN, NY 11204
IS 281 (Bath Beach/Coney Island)
8787 24th Ave, Brooklyn, NY 11214
IS 192 (Boro Park)
4715 18th Ave, Brooklyn, NY 11204
IS 104 (Bay Ridge)
9115 5th Ave, Brooklyn, NY 11209
Bay Academy IS 98
Relocated to IS 281 building (Bath Beach/Coney Island)
8787 24th Ave, Brooklyn, NY 11214
Mark Twain IS 239
Relocated to PS 288 building (Coney Island)
2950 W 25th St, Brooklyn, NY 11224
---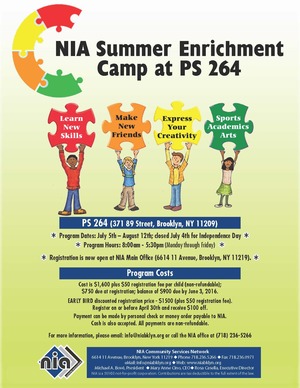 FEE-BASED Summer Camp at PS 264
371 89 Street, Brooklyn, NY 11209

Program Dates: July 5th – August 12th;
closed July 4th for Independence Day

Program Hours: 8:00 am - 5:30 pm
(Monday through Friday)

Registration is still open at NIA Main Office
(6614 11 Avenue, Brooklyn, NY 11219)
Program Costs
Cost is $1,600 plus $50 registration fee per child (non-refundable);
Payment can be made by personal check or money order payable to NIA.
Cash is also accepted. All payments are non-refundable.
For more information, please email:
info@niabklyn.org
or call the NIA office at
(718) 236-5266
---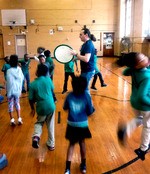 NIA/CWC, Crown Heights students were jumping for joy as Global Arts to Go teaching artists Alex Garcia and Ivan Llanes paid one last visit. The capoeiristas combine elements of dance, acrobatics, and music into their visits. Watch a short video here!
---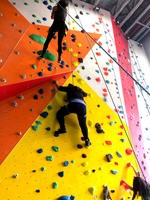 NIA/IS 192 had the chance to experience indoor rock climbing and tight roping at The Cliffs in Long Island City.
---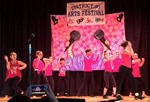 PS 186/NIA ExpandED students performed at District 20's
Arts Festival!
---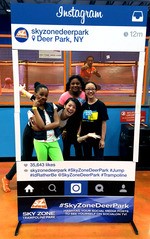 NIA/IS 187 is flying high at SkyZone.
---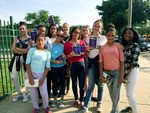 NIA/IS 121 middle-school girls took a trip to see
Aladdin on Broadway.
---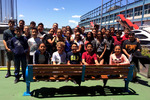 NIA/IS 121
took a trip to Chelsea Piers for Laser Tag and Bowling,...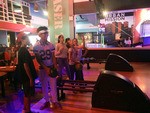 ...as did NIA/IS 104.
---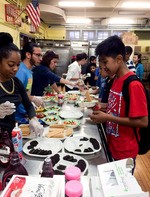 NIA/IS 192 keeps cool with an ice cream social!
---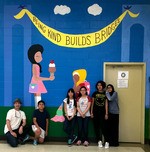 NIA/IS 104 students pose in front of their completed mural, along with BRIC Arts' Todd Drake.
---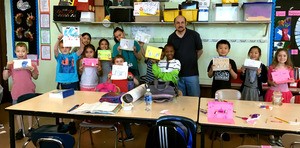 NIA/PS 104

students explored creating their own cartoon characters with the help of author/illustrator Angelo DeCesare, part of NIA subcontractor Puppetry in Practice.
---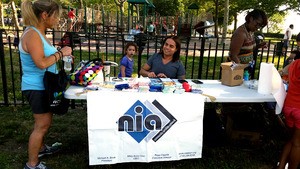 The NIA Community Services Network was at Shore Road Park for Family Fun Day! Face painting and amusements were on tap, as was an evening screening of "The SpongeBob Movie." Events like this are supported by a grant to NIA from the NYC Department of Cultural Affairs, sponsored by Council Member Vincent J. Gentile.
---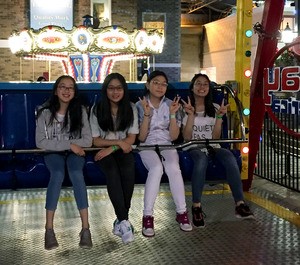 NIA/IS 187

came to play at iPlay America.
---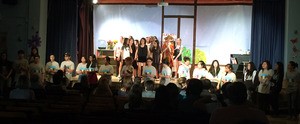 NIA/IS 187 presented "All in the Timing." The cast (top) and set design crew (bottom) are pictured above
.
---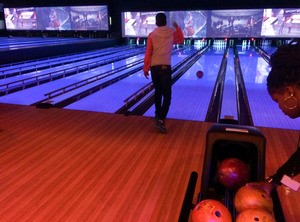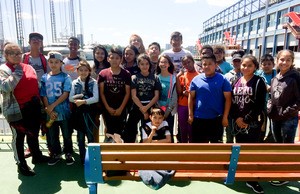 NIA/IS 192

found Bowlmor Lanes at Chelsea Piers to be
right up their alley.
---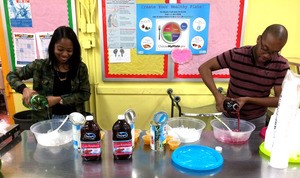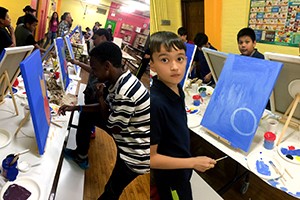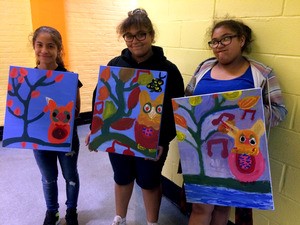 NIA/IS 192

held a Paint and Punch Night!
---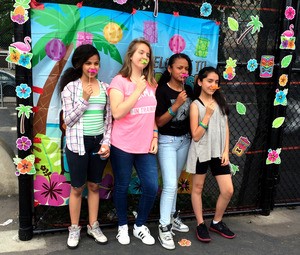 Life is a carnival for NIA/IS 192.